Hi and thank you for joining me over at Janine's ghost stories. It is fantastic to share a TOC with you for Vol 3 of this amazing book – The One That Got Away.
Why did you sub to this particular call, what pulled you in?
Interestingly enough, I was already working on this story when I saw the call and thought, "perfect!" I rarely have something ready to go when I see a call I'm interested in. That's one of my goals for this year, to have a backlog of stories on hand so that when I see a call that interests me, I can see what works or if I can adapt an existing piece.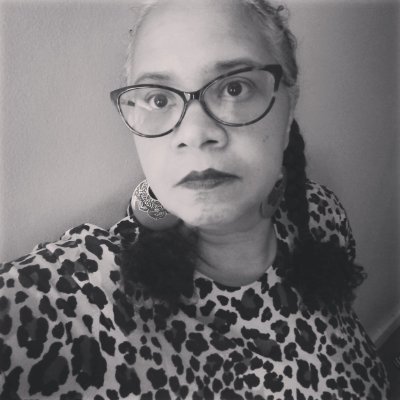 Where did the idea for your story come from?
I've been thinking about writing an article about the connection(s) between pornography and horror, which I've been thinking about for years after I learned that originally horror films and pornographic movies often had the same MPA rating of X-rated due to violence and gore. Then I started thinking about body horror and how bodies are portrayed on pornography and then I went down this road that led me to question how race and gender are depicted in porn, which then made me think about how black bodies are sexualized and/or brutalized in the media. Anyway, I'm still working those ideas. And, while I was working on those ideas, I watched a bunch of different kinds of porn and started seeing more and more connections between those films and horror in general. I needed to write a story that talked about some of what I was seeing and have a strong, independent female protagonist who also happens to be a film star. And, I started writing it around the anniversary of Josephine Baker's birthday, so…that's how my brain works.
What do you think women can bring to the horror genre?
A variety of personal experiences that may seem innocuous or harmless at first glance, but when you really examine them you see the innate horror of simply being alive and female in the world. Plus, you get horror stories told from the perspectives of women of different sexualities, ethnicities, beliefs, and lived experiences that are authentic because they're being told in their own voices. I've read some really good stories written by men with female protagonists, but sometimes they miss certain elements of the female experience because they aren't women. And, what women find scary and horrific changes the narrative a bit and hopefully, challenges the limits of the genre.
Kandisha Vol 4 theme is … what would be your dream reveal?
I don't know, I love folklore and ghost stories. An anthology of haunted house stories might be interesting. Or, at the very least haunted places. People can be haunted, too.
Has COVID/lockdown affected your writing?
Yes, and no. 2020 was one of my most productive years in terms of publishing and I participated in several panels, interviews, and I did an academic presentation for Multiverse back in October. So, I feel like being stuck working from home gave me a bit more flexibility of how I use my time. But, I'm a single parent. Getting myself motivated is difficult enough but trying to motivate a high-functioning autistic kid to do schoolwork and attend Zoom meetings all day is nearly impossible. So, I've had a few distractions.
What is next for you on your writing journey?
I'd like to publish twice as many stories this year as I did last year, and I'd like to finish one of the longer pieces I'm working on, including the sequel to my debut novel, INVISIBLE CHAINS.
Where can we find you?
You can find me over at my blog, Girl Meets Monster, where I write about popular fiction, fuckable fictional characters, the intersectionalities of identity, and feature the work of other writers in a series called Fiction Fragments.
And, you can also find me one these social media platforms:
Instagram: @michelle_writes_stuff
Twitter: @MichelleRLane
Facebook: themichellerlane/
Goodreads: https://www.goodreads.com/michellereneelane
Amazon: https://www.amazon.com/~/e/B07Q7XSJR5
Thank you so much for joining me on the blog today! I have to say that Josephine is one of my favourite stories from TOTGA and it was certainly very sexy!
I hope you will follow Michelle on all her socials and check out her work. And as always, stay spooky!!!